2009年 10月 09日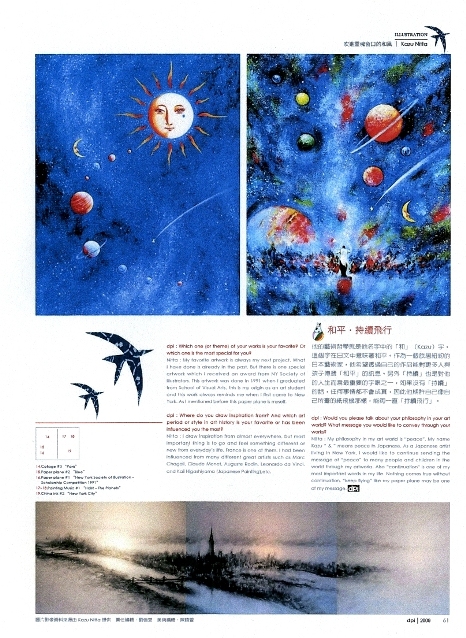 Q: Which one (or theme) of your works is your favorite? Or which one is the most special for you?
A: My favorite artwork is always my next project. What I have done is already in the past. But there is one special artwork which I received an award from NY Society of Illustrators. This artwork was done in 1991 when I graduated from School of Visual Arts, this is my origin as an art student and this work always reminds me when I first came to New York. As I mentioned before this paper plane is myself.
Q: Where do you draw inspiration from? And which art period or style in art history is your favorite or has been influenced you the most?
A: I draw inspiration from almost everywhere, but most important thing is to go and feel something different or new from everyday's life. France is one of them. I had been influenced from many different great artists such as Marc Chagall, Claude Monet, Auguste Rodin, Leonardo da Vinci, and Kaii Higashiyama (Japanese Painting),etc.
Q: Would you please talk about your philosophy in your art world? What message you would like to convey through your works?
A: My philosophy in my art world is "peace". My name Kazu " 和 " means peace in Japanese. As a Japanese artist living in New York, I would like to continue sending the message of "peace" to many people and children in the world through my artworks. Also "continuation" is one of my most important words in my life. Nothing comes true without continuation. "keep flying" like my paper plane may be one of my message.