2009年 10月 09日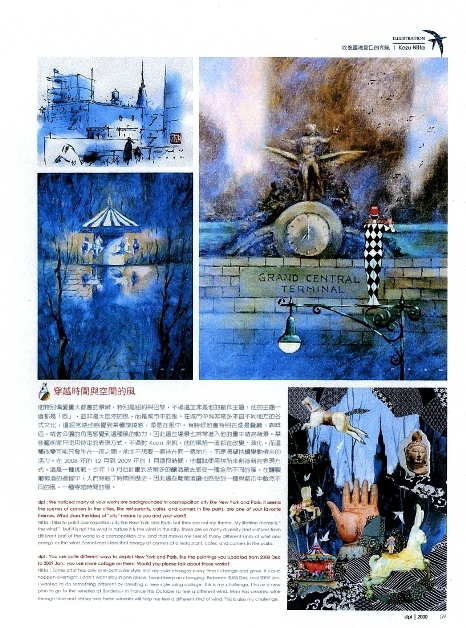 Q: We notice in many of your works are background in cosmopolitan city like New York and Paris, it seems the scenes of corners in the cities, like restaurants, cafes, and corners in the parks, are one of your favorite themes. What does the idea of "city" means to you and your work?
A: I like to paint cosmopolitan city like New York and Paris, but they are not my theme. My lifetime theme is " the wind ". but it is not the wind in nature it is the wind in the city. There are so many diversity and cultures from different part of the world in a cosmopolitan city, and that makes me feel so many different kinds of whirl and energy as the wind. Sometimes I feel that energy at corners of a restaurant, cafes, and corners in the parks.
Q: You use quite different ways to depict New York and Paris, like the paintings you updated from 2008 Dec to 2009 Jan., you use more collage on them. Would you please talk about these works?
A: Some artist has only one particular style, but my style changes every time I change and grow. It could happen overnight. I don't want stay in one place, I want keep on changing. Between 2008 Dec and 2009 Jan, I wanted to do something different by creating a new style using collage. This is my challenge. I have a new plan to go to the wineries at Bordeaux in France this October to feel a different wind. Man has created wine through time and history and these wineries will help me feel a different kind of wind. This is also my challenge.